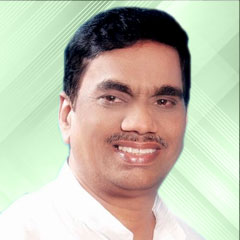 Shri Vijay Tulshiramji Jadhao has been inducted as an Independent Director on the Board of Shipping Corporation of India Ltd in July 2018. He is a business consultant having experience of more than 30 years in corporate sectors. He is also a member of various Non-Governmental and educational Institutions in Vidarbha region of Maharashtra like Shri Vyankatesh Seva Samiti, Washim etc. His core competency lies in deep understanding of agriculture sectors. He is also Ex-Director of Maharashtra Agro Industries Development Corporation (MAIDC).
He is also closely associated as Guest Faculty with various reputed Management and Engineering Institutes. He has conducted various training programmes on project management and also working as an Advisor for corporate training assignments and training faculty.
Shri Jadhao is also involved in co-operative sectors and co-operative Banks in Maharashtra like Akola District Central Co-op Bank Ltd. He is a Social Activist and his social contacts and experience in business are also very helpful to the future prospects of various company.