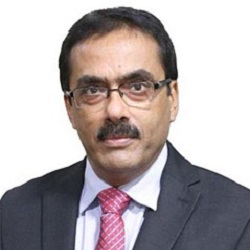 Shri. Pramod Kumar Panda, a career central banker, specializes in financialregulation, banking supervision and capacity building financial inclusion. He has longand extensive experience in Reserve Bank of India (RBI)'s onsite supervision and offsite monitoring of commercial banks. He has also headed the Financial FraudMonitoring Cell of Department of Banking Supervision (DBS), Central Office of RBI.Basis his financial supervision experience, Shri. Panda has deep technicalknowledge and understanding of internal controls, risk management including fraudrisk management and corporate governance. He has rich experience, both at globaland national levels in designing and delivering high quality and innovative capacitybuilding programs.
Shri. Panda, is currently associated with the Centre for Advanced FinancialResearch and Learning (CAFRAL)'s, learning activities as Senior Program Director.Also, he is Director on the Board of Corporation Bank as RBl's nominee. He was RBINominee Director on the Board of Bank of India. He was also an IndependentDirector on the Board of Home Credit India Finance Private Limited, a systemicallyimportant NBFC which is a subsidiary of an international non-bank financialinstitution, Home Credit B.v. headquartered in Netherlands.
He holds a Masters' Degree in Science (MSc) from London School of Economics &Political Science, UK; a Master's Degree Arts (MA) in Political Science from UtkalUniversity, Odisha, India and a Bachelor's Degree in Law (LLB) from UtkalUniversity. He has completed the Sloan Executive Education Programme on MIT'sApproach to Design Thinking from Massachusetts Institute of Technology, USA.
As General Manager and Chief General Manager at RBl's DBS he has led projectsfor implementation of Risk Based Supervision, Pillar 2 of Basel 11, Financial Conglomerate Supervision and Cross Border Supervision and SupervisoryCooperation. He has been a member of the Task Force that advised the AccordImplementation Group of The Basel Committee on Banking Supervision (BCBS) infinalizing the Good Practice Principles on Supervisory Colleges.
Shri. Panda has been with the International Monetary Fund for three years asResident Advisor at its Technical Assistance Centre (AFRITAC South), Mauritiuswhere he assisted the financial regulators of southern African countries instrengthening their financial sector regulation and supervision. He has also been thePrincipal of RBl's College of Agricultural Banking, Pune which builds capacityamongst bankers in India and South Asia in inclusive finance.