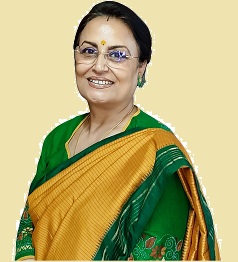 Smt. H.K.Joshi, Chairperson and Managing Director, joined SCI on 5th February, 2015 as Director (Finance) when she was also appointed CFO, SCI.  She currently holds the additional charge of Director (Finance) w.e.f. 19th December 2019 when she was appointed by the Government of India as the Chairperson & Managing Director, SCI. She held multiple additional charges from time to time at the Board level viz. Director (Personnel & Administration) in 2017-18, Director (Bulk Carrier & Tankers) in 2019 and CMD from 12th September 2019.  She held additional charge of MD of Indian Ports Global Ltd. (IPGL) and Chairperson & Managing Director of India Ports Global Chabahar Free Zone (IPGCFZ) for over a year and four months. She has also simultaneously been on the Board of seven other companies while also being on various Board committees. 
Smt. H.K. Joshi, has close to four decades of corporate experience and over seven years of Board level experience in shipping domain With a very rich and diversified experience spanning over three decades with ONGC, a Mammoth Maharatna PSU, her experience includes almost two decades with ONGC Videsh Limited (OVL – overseas arm of ONGC) which looks after the international business acquisitions of ONGC wherein she was actively associated with the path breaking international transactions which led the company (OVL) to turnaround. This assignment gave her a lot of exposure and opportunity to travel and brought an all-round corporate development of her professional attributes to International standards in addition to polishing her financial acumen. She started her career as a Lecturer in Delhi University and joined the corporate world in 1984.
She is a member of the Institute of Directors (IOD), Fellow Member of The Institute of Cost Accountants of India, Life member of the Institute of Public Administration, rank holder in Post-Graduation in Commerce (Financial Management) from Delhi School of Economics, B. Com (Hons.) from Delhi University, Masters of Business Administration (MBA)-Financial Management. She believes in continuous learning and has Post Graduate Diplomas in Human Resource Management, Management and Financial Management as well.
Mrs. H.K. Joshi has been conferred the prestigious Maritime Personality Award of the Year 2021 at The Maritime Standard Awards Dubai, Maritime Personality of the Year at Gujarat Star Awards 2022, Special Jury Award to Woman Role Model in Maritime Industry at 7th Edition of East Coast Maritime Forum 2022, 'Women in Shipping & Logistics' Award 2021 at the 5th Edition of India Maritime Awards, the CMD Leadership Award at the 8th PSU Awards Ceremony by Governance Now Group, Champion of Diversity at the Maritime SheEO Conference 2021 and with the Amity Excellence Award for Exceptional Leadership by the Amity University at the International Conference in London on Intelligent Engineering & Management in April 2021. Mrs. H.K. Joshi has been conferred WISTA India Personality of the Year 2020 award and the 'CEO with HR Orientation' Award at the 28th and 29th Editions of the World HRD Congress for the Years 2020 and 2021 and with 'Sailor Today Sea Shore Awards 2019' under the category of "Woman of Substance".  She has figured third among nine luminaries who have been recognized as 'Women of Steel' by the TradeWinds controlling the largest merchant fleets in shipping by gross tonnage (3.50 million GT). National Maritime Day Celebrations Committee (NMDC) award conferred on m.t. Swarna Krishna for creating history, first Indian flag vessel with only women officers on board was presented to Mrs. Joshi, CMD, SCI.  Mrs. Joshi has been awarded the Certificate of Appreciation for an outstanding performance by the Indian National Bar Association on "THE PHENOMENAL SHE" event on the eve of IWD 2021 and acknowledged among the 100 Women in the 3rd Edition 2020. The Nautical Institute London South West (India) Branch conferred upon Mrs. H.K. Joshi and SCI Team 'Certificate of Appreciation' for the effective management of crew change during the challenging times of pandemic in 2020. She has won the Best CMA CFO Award 2019 under the Category Service-Large-Female instituted by the Institute of Cost Accountants of India (ICAI). She was also honored with the Best Woman Employee Award 1st Place (Executive Category) by the Forum of Women in Public Sector (under the aegis of SCOPE) in 2018.  She was awarded "The Tenth India CFO Awards – Excellence in Finance to enable a Turnaround" hosted by International Market Assessment India Private Limited in association with Pierian Services in May 2016.   Mrs. Joshi has also been the recipient of "The Most Influential CFOs of India Award" from Chartered Institute of Management Accounts, UK for two years in succession viz. 2015 and 2016 and the "CMA CFO Award 2014" from The Institute of Cost Accountants of India.
A self-propeller and an agile and pragmatic leader having an eye for identifying talent and conviction in her goals, she considers human resources as integral assets of an organization. A team builder and performance-driven she is known for her excellence in constituting effective task forces from a diverse mix of manpower which deliver the desired outcomes.   Her strategic vision accompanied with aptitude for risk taking, tough-mindedness and unwavering focus has led the Company to beat the odds and excel, notwithstanding the adversities including the pandemic disruption.  A Business Continuity Plan drawn up well in advance to meet the eventuality of a lockdown during the outset of the pandemic helped seamless functions and operations of the Organization with great efficacy and without any interruption.  Very inspiring through her innovative skill sets, commitment and diligence, she enjoys the challenges and guides, mentors and motivates the employees to take them on, continually raising their standards of performance, even during the restrictive lockdown constraints helping meet all the statutory obligations well before the timelines and without availing concessions granted by the authorities.  She advocates Diversity and Inclusion in all spheres and has permeated a culture of positivity and confidence to deliver.  A first-ever 'All Women Officers' Sailing' was executed on board the tanker m.t. Swarna Krishna on the eve of the International Women's Day 2021 on 6th March 2021, under her leadership, which is hailed as a historic and a landmark achievement in the national and global maritime effecting a perception shift in 'seafaring' being traditionally seen as male-dominated.  Her domain experience in finance and excellent negotiating skillsets are invaluable assets to the operations and projects which have been duly recognized by the industry.  The 'safety first' approach for effecting the challenging crew change during the COVID times exemplifies her spirit of compassion and empathy and ability to manage the unpredictable.
A passionate leader with high standards of work ethics, she has sailed across, sustaining through the uncertain times and continually outperforming previous standards of excellence.